The main content of this page begins here.
CEO Message
Message from the CEO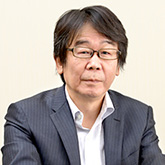 Since its founding in 1983, the Infocom Group has been moving society forward by innovative IT solutions. For over thirty years, we've striven to provide customers with the best products and services in the ever-evolving world of information and communication.
Infocom develops solutions for all types of organizations: mobile phone providers, medical institutions, public offices, and educational and research facilities. We also provide a variety of services to consumers, including content distribution and e-commerce services for mobile phones and other devices. While we're proud to offer a diverse selection of products and services to a variety of industries, we're always looking to expand and to innovate for the good of our customers.
Right now, the IT field is experiencing a period of revolutionary change. The rapid spread of smartphones and tablets is vastly expanding the personalized internet service market and changing the ways corporations use information. Modern sales forces rely heavily upon high-functionality mobile devices, while cloud solutions pervade every office of every organization. As cloud and network technologies evolve, IT service customers require new systems and new forms of support to stay competitive. In this era of rapid change, the key for Infocom is swift and appropriate response.
How will we stay ahead of the curve? As we always have, through "United Innovation." United, we accumulate knowledge; as Infocom has grown and expanded, we've continually pooled our skills, our ideas, our talents, and our experiences to anticipate new trends and to solve them before they reach the market.
We have positioned Amutus, Health IT, and GRANDIT as priority areas in our midterm management plan. By March 2017, we want sales in these three areas to contribute more than 60% of our total consolidated sales. By 2021, we aim to earn 100 billion yen in consolidated sales and 10 billion yen in operating profit.
We will continue to grow our core businesses while expanding and improving our other IT services. With the combined power of eight domestic companies and two overseas companies, Infocom Group will continue to drive innovation in society.
Norihiro Takehara
President and CEO